Enjoy your leisure time during your stay in our Guest Rooms.
From the Pavillon, in every season, you can explore the region, practise your favourite sport, walking, tennis, horse-riding, golf or cycling, go to the market in Aix, experience new activities… or simply enjoy the peace and tranquillity all around you.

At the Pavillon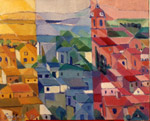 Painting
If the beauty of the surroundings inspires you to paint, use one of our easels. You can take it out with you and set it up to paint anywhere you like.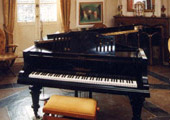 Music
Music-lovers can play the Blüthner grand piano in the drawing room, which is regularly used for recitals. Scores of the greatest classical composers are provided.

Walks
From the property you can take footpaths to the Concorse – Sainte Victoire mountain and the Bibémus quarries. Walking maps are available.


Discover Aix en Provence – The city of fountains

Aix. A blind man thinks it's raining, But if he could see without his stick He would see the blue fountains Singing the glory of Cézanne. (Jean Cocteau – poésies 1917/1920)
Things to do: The life and events of the city: International Festival of Lyric Art, Cartoon Forums…The main market, the fruit and vegetable market, fairs and collectables.
. . . request the Tourist Office programme HERE

Discover La Provence

Rich heritage of cities, charm of hilltop villages, breathtaking landscapes, internationally renowned festivals


Places to see: Arles and the Camargue, Marseille, Cassis and the Calanques, Avignon, the Verdon Gorges
Things to do: La Roque d'Anthéron Piano Festival, Photo Forum in Arles, Avignon Theatre Festival
. . . request the Tourist Office programme HERE

Culture, Sport, Arts and Activities throughout the year
. . . request the Tourist Office programme HERE